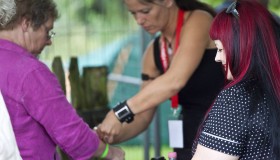 Tickets
Persons who belong to right-wing extremist organisations or the right-wing extremist scene or who propagate extreme right-wing ideas are not welcome and will not be admitted!
Pre-sales only start a few weeks before the festival. We will announce it in our newsletter, which you can subscribe to here: https://www.forstrock.de/newsletter.
Contact details
Questions about the tickets can only be answered by e-mail to tickets@forstrock.de

Please do not make any enquiries via telephone. We are also unable to provide information on the availability of tickets on the phone.

Visitors with heavy handicap and/or in the wheelchair sitting receive further information and tickets under tickets@forstrock.de

.
The presale starts in h